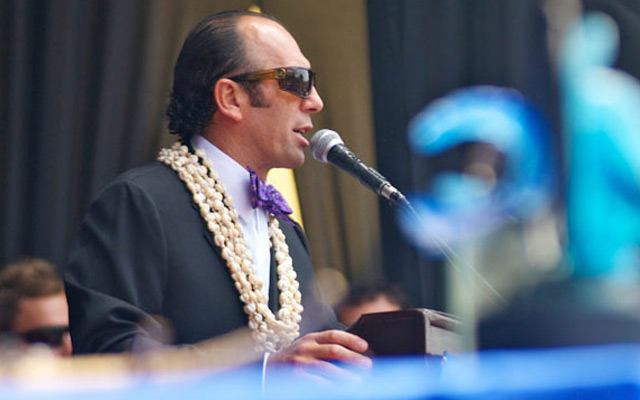 Dear Friends of Surfing:
It's an honor to present you, along with our El Salvadorian friends, this historic edition of the ISA World Masters Surfing Championship.
Once again, the best 35 and older surfers of the world gather in a spirit of camaraderie to compete for the most prestigious surfing title of the division. The epic, barreling waves of Punta Roca in La Libertad pound away in expectation of the event that will enter the history books.
The organizing team is headed by long time local surfer Carlos Ortiz, who sought the support of the El Salvador Tourism Department, which has made this great competition possible. This is the fourth ISA World Championship held in Central America in the last two years, showing the region's interest in the sport and ISA's commitment to foster its development.
Organizers, competitors, managers and fans from all over the world are gathering in El Salvador's legendary Punta Roca, on one of the best surfing destinations in the world. The wave is known as the Jeffrey's Bay of Latin America.
We're all part of the greatest surfing event in the world for over 35 year-old athletes. The Masters elite will represent their countries as they compete for gold, silver, bronze and copper medals.
By being in El Salvador, the participating surfers have reached the pinnacle of their surfing careers as Master surfers.
Representing one's country at an event of this magnitude is the top honor an athlete can dream of. My recommendation to everybody is to enjoy where surfing has taken you. Enjoy these beautiful waves and people and meet new friends, so when you go back home your hearts will be full of great memories.
I'm looking forward to sharing some long and hollow waves with you in Punta Roca.
I would like to thank all delegations, Carlos, his organizing crew and the El Salvador Tourism Department for making this event possible and for your support of a Better Surfing Future.
Un muy fuerte abrazo and good luck,
Fernando Aguerre
President, ISA
The ISA World Masters Surfing Championship is sponsored by El Salvador Impresionante, Alcaldía del Puerto de La Libertad, Surfos, Alcatel, TACA), El Gráfico, Olas Permanentes Magazine, TIGO, Decameron, Cushe, Maya Realty, Yamaha, Alamo, La Femenina, CONJUVE, Amate Travel, Línea Ejecutiva, Surfline, Hospital de la Mujer, Arreconsa, Torogoz, Pepsi, Adrenaline, Gray Line El Salvador, CASATUR and POLITUR
About the International Surfing Association
The International Surfing Association (ISA) is recognized by the International Olympic Committee as the World Governing Authority for Surfing. It was originally founded as the International Surfing Federation in 1964 and has been running Open Division World Championships since 1964, Junior World Championships since 1980, and Masters World Championships since 2007. The ISA also sanctions the World Kneeboard Titles and the Tandem Surfing World Title, and will hold the first World Bodyboard Championship in 2011, and the first World Standup Paddle (SUP) and Paddleboard Championship in 2012.

ISA membership includes the surfing National Governing Bodies of 69 countries on five continents. Its headquarters are located in San Diego, California. It is presided over by Fernando Aguerre (Argentina), first elected President in 1994 in Rio de Janeiro and re-elected seven times since. The ISA´s three Vice-Presidents are Alan Atkins (AUS), Karín Sierralta (PER) and Debbie Beacham (USA).